Video recap of our project
Erasmus+ training course "Be Prepared", organized by Four Links, took place in Kouty, Czech Republic during 12-22 December 2017 and brought together 30 participants from Czech Republic, Italy, Lithuania, Slovakia, Portugal, Croatia, Macedonia and Romania.
The goal of this amazing training course was to improve understanding and raise awareness of the youth workers on how to apply first aid procedures correctly and how to apply solutions to disaster risk reduction.
From the very beginning it was clear, that all 8 nations are going to become like one because of each person's support, friendliness and care. This was even more built up during the team building and ice-breaking activities as well as trust exercises as the latter was leading the project group through all the way.
The youth workers took part in many different simulations of real life situations involving health and first aid related risks in order to make the youth workers more aware on developing their own skills on providing first aid and become more responsible about their potential of saving lives.
In addition to that, in a study visit to Prague, the youth workers were invited to explore local culture, architecture, foods and drinks.
The frosting on our amazing training course cake was the ambulance who provided a professional fully equipped training for all the youth workers, after which they developed skills how to provide first aid correctly in the event of commonly occurring accidents, or in life-threatening situations, increased the level of confidence on giving first aid and to be able to control emotions in a real situation, as well as learned how to prevent damages and how to control reactions in case of disaster risks.
The training course was evaluated as an extremely valuable asset for all the participating youth workers as communication with others, organizing various events, projects and workshops for the youth is their primary activity and the critical situations can occur with no advance warning in even the safest environment, so as the title of the training course says, you have to "Be Prepared!"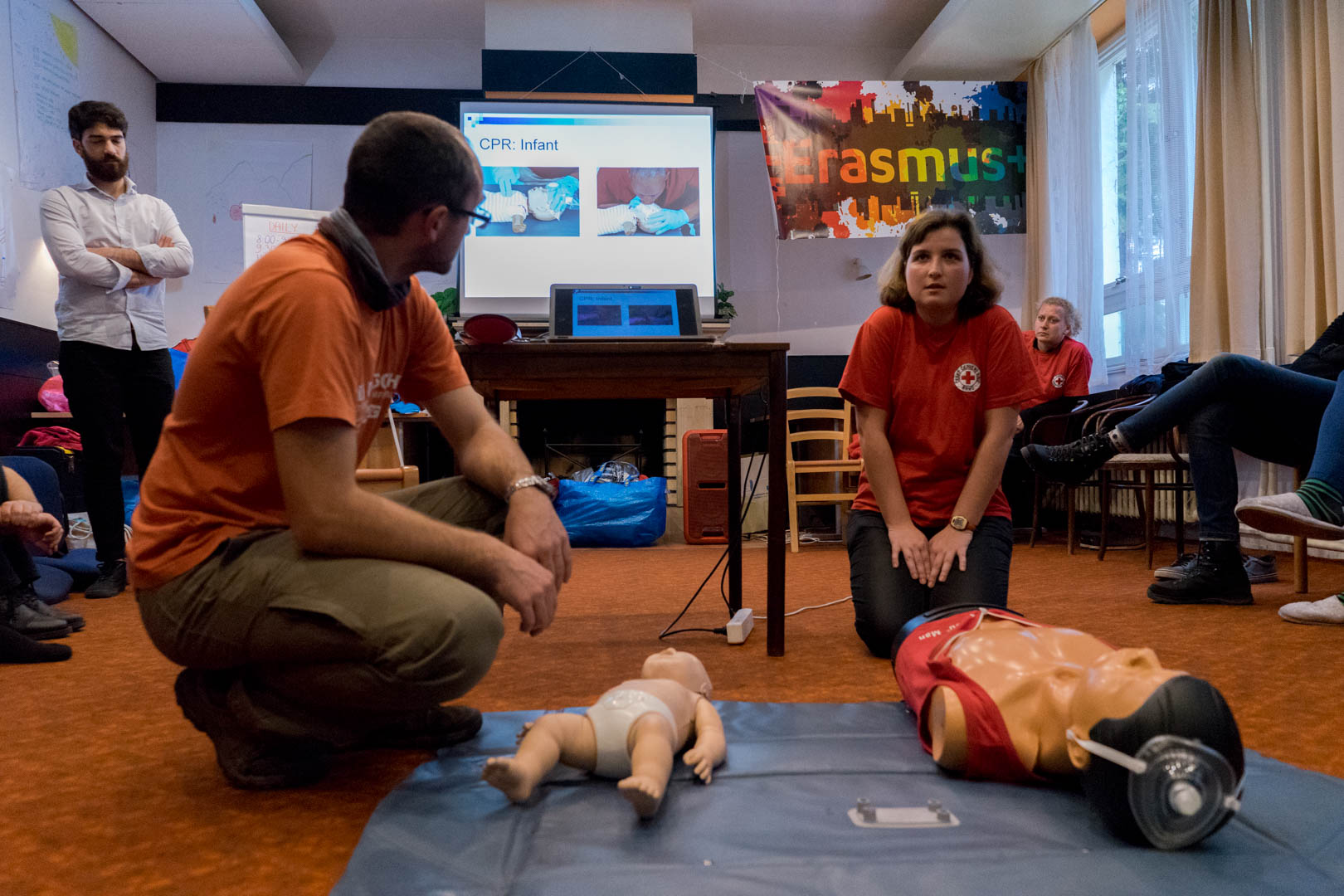 "The project met my expectations. As I know how important is to know how to save the life and provide first aid I really happy that I took part of this project. In future I will definitely use my experience. The group was awesome and what I can recommend in the future is go for Erasmus+ project and always Be Prepared!" – Karina Bystrianska
"Project in winter "Be prepared". Hard to explain, these who were, do know, you know, everybody should go. So I gave the try and I tried. And I felt respect. We were trying to make the good time whatever if with tries, fails, another tries or another falls. With cry and more with smile. Motivations and challenges brought me new power. I saw laugh, thinking and almost everything was included, just too big to only write. And what is main, I am happy I know you. Happy I knew you and I am looking for the next time when I all see you again. All of you." – Peter Bystricky
"I was in Erasmus+ project, called "Be prepared". It was a really interesting project because it was about first aid. I was learning about how to be a paramedic. Of course, practical demonstrations were a bit different compared with Lithuanian first aid. Before this project, I was a little bit shy to speak in public or work in groups, but now I can freely speak everywhere. Of course, I met a lot of new people from different countries. They are my friends now. Our daily schedule was good for young people because we had active days and evenings, during daytime we were playing games or working in groups, sometimes traveling. I would recommend for everyone Erasmus+ projects not only to find new friends but to get new knowledge and visit different countries." – Tautvydas Katkus
"I feel great to be here; I like the people, the group dynamics and also the tasks that are being given by the project manager. I think that the presentations contain useful information; also the participants have the opportunity to practice their presentation and public speaking skills when working in teams and delivering the information further. This training course is a great opportunity to learn how to provide first aid." – Bogdan Vilcan
Now it's your chance to take part in one of our Projects!
Check our ongoing projects section and apply!
Come and grow with us!